Welcome to the UH Hilo Performing Arts Center
The Performing Arts Center will return with live performances in Fall 2022. The Box Office will remain closed for in person transactions until further notice. You may purchase tickets online beginning August 30 for the Dance Collective. Phone orders will begin September 6th. Information about our upcoming season and any special events that we do will be sent through our email blasts. There will no longer be physical brochures. To sign up for our email blasts please email us at artsctr@hawaii.edu. We will see you in Fall 2022!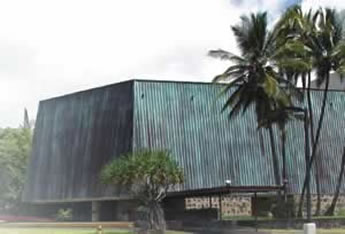 The University of Hawaiʻi at Hilo Performing Arts Center is the major performing arts educational and cultural center on the Big Island, serving as a joint special use facility for the University and Big Island Communities. The Performing Arts Center is primarily an instructional facility providing for the regular educational functions of the University of Hawaii at Hilo, whose purpose is to offer significant educational and diverse cultural opportunities -- where dialogue, the exchange of cultural and artistic ideas and co-curricular activities are encouraged.
The Performing Arts Center produces, presents and/or co-sponsors an extensive and culturally diverse year-round Season of local, regional, national, and international performing arts events performed by some of the world's greatest artists. The quality of events presented in the 600-seat Theatre is equal to any offered by major mainland universities. A typical year includes over 150 performances of dance, drama, music, mime, children's shows, lectures and special events.
The UH Hilo Performing Arts Center in cooperation with the UH Hilo Performing Arts Department also produces two to six plays, concerts, musicals and dance performances each season. Interested faculty, staff, students and community members are encouraged to participate in the activities of the Performing Arts Center.
Upcoming Events
There are no upcoming events at this time. Please check back later or contact the box office at (808) 932-7490.